Reserve Your Seat at The Table

FOR TWELVE MEMBERS ONLY
---
The Table is currently full. If you would like to join our waitlist and stay informed about openings, or if you have questions about this experience, please call or email Ryan at 818-735-9503, Ryan@learntolead.com.
---
The Table is a 12 month, one-on-one, leadership and personal performance training, coaching, and mentoring program with Dave Anderson - custom tailored to your individual growth objectives and goals. Throughout this exclusive and intentional growth process, you'll connect directly with Dave and go in-depth on principles and strategies that will accelerate your personal and corporate growth.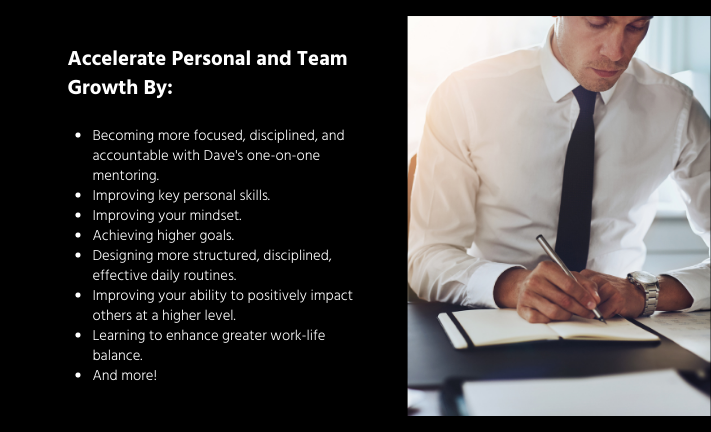 As a Table member, your mentoring journey with Dave begins through a preliminary Zoom session where together you will discuss your goals and objectives, and develop an intentional growth process based on them. The personal one-on-one coaching with Dave continues over twelve months through a series of weekly personal text messages, monthly personalized coaching videos, and quarterly 60-minute mentoring calls. In addition, through a private "Come to the Table" event (August 25-26th, 2021), you'll receive one and one-half days of in-person instruction from Dave with 11 other Table members allowing you to further: develop your skills, knowledge, abilities; form connections and build relationships with other Table members; and immerse yourself in principles that will transform your personal life and professional career.

The Table Membership Investment is $8,500 for the entire 12 month process. One investment - three payment opportunities:
---
The Table is currently full. If you would like to join our waitlist and stay informed about openings, or if you have questions about this experience, please call or email Ryan at 818-735-9503, Ryan@learntolead.com.
---
FREQUENTLY ASKED QUESTIONS
Who is this for?
The Table mentoring program is designed in mind for:
Executive-level managers, entrepreneurs, or leaders in business, athletics, non-profits.
High-potential, high-ceiling, mid-level team members.
Family members you are grooming or preparing for bigger opportunities or succession.
Performers at any level who feel stuck, plateaued, or who are struggling and in need of consistent personalized coaching to turn things around.
This sounds great but I'm retiring soon; can it still help me?
Though you may be closing the curtain on your career, that doesn't mean you stop having things worth fighting for and stretching for daily - passions and goals to pursue. Your goals and objectives may look different than they used to (for example: you may own that watch, that car, or that house that you used to want, and your goals may be bigger-picture legacy objectives - causes you wish to support, people you wish to impact, creating resources that add value to others, and more) but they're goals nonetheless. Mentoring can help you develop a structured plan to get to those goals.
Can I sponsor someone else's seat at The Table?
If you know someone who belongs at the Table, and would like to financially sponsor their seat, let us hear from you.
Why is this limited to only 12 people? I'd like to join but the Table is full.
Due to the bespoke, tailored and customized aspects of this mentoring program - and because of the personal investment Dave will be making in each Table member individually - participation is extremely limited to 12 members at a time. Once the table is "full," admission will be closed until space becomes available; however, membership inquiries will be placed on a waiting list and will be notified if and when space becomes available on a first-come first-served basis. To join or be added to our membership waiting list, please email or call Ryan at Ryan@learntolead.com, 818-735-9503.
Can I split this with a friend or colleague where we each do 6 months?
The Table is intentionally designed as a 12-month process to allow you and Dave time to fully maximize your mentee/mentor relationship, and develop a clearly structured plan to systematically grow from "Point A" to "Point B." This cannot happen if the process is split amongst you and a friend; again, because of the customized nature of the program. We encourage you and your friend to each become a table member and become accountability partners for each other - each receiving your own one-on-one coaching from Dave for 12 months, and helping hold each other responsible for your growth goals.
Do I really need a mentor?
Mentoring offers numerous rewards and benefits including:
The providing of information and knowledge
Mentors can see what you can't. Through personal experiences, mentors can guide you towards the right path.

The stimulation of your personal and professional growth
It's easy to get complacent in all areas of life. A mentor recognizes your potential and works hard to help you achieve what you're capable of, and will likewise tell you the hard truth when others are reluctant to do so.
The establishment of measurable goals and ways to achieve them

Why re-invent the wheel? A mentor can show you how - and most importantly why - you should incorporate the strategies that work and that will take you to your most bold and compelling goals.
A system for accountability and staying focused
Getting off track is part of life. Having a mentor puts someone in your corner to help make sure you avoid getting off track - and that when you do, you do so for less often - and to help push you to be the very best version of yourself possible.